Owner
Monique Saunderson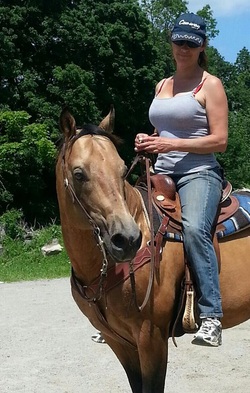 Monique is the owner of Gold Rush Farms. She was previously a veterinary technician at several animal hospitals and also worked as a temporary animal control officer in Florida during the second worst rabies outbreak in the United States. Monique is also an avid animal rescuer and has rescued many dogs, horses and helped to rehabilitate them. Over the years she has bred, raised, and trained horses. She also has a wealth of experience with buying, selling, and assessing horses. She specializes in breaking horses under saddle using gentle methods built around the horses comfort level and mindset. She also prides herself in making an all around horse that has the trust in you to go anywhere and do anything. A few finishing touches are all that is needed for the horse to be successful in any discipline.

Previously, Monique managed a large horse farm and helped to build it up into a very successful business. She started a summer camp program as well as a pony party program during the time that she was there along with training horses and teaching lessons.

Monique teaches Western lessons in basic horsemanship, gymkhana, Western pleasure, and training lessons. When Monique teaches lessons, her first and main concern is safety and teaching people how the horses minds work.

Monique has been giving trail rides since she was 10 years old and has heard many horror stories about how not all places are as safety conscious (especially in foreign countries). For the occasional or vacationing trail rider, Monique feels that it is always a good idea to just get a few basic lessons under your belt and learn some emergency procedures.




---